Calvisius Caviar Experience at SOLE
We invite you to experience, Ars Italica Calvisius Caviar at SOLE Seafood & Grill in Dublin.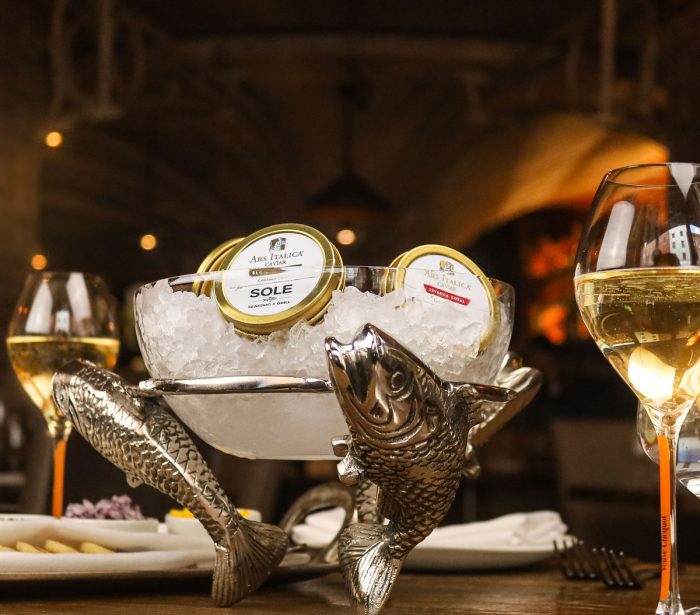 But, What is Calvisius Caviar?
Calvisius Caviar is one of the most exquisite delicacies in world cuisine. Produced in the clear spring waters of the Po Valley Italy.
Sustainability, craftsmanship and quality are the pillars and the guiding principles and goals of Calvisius.
Embarking on a luxurious Caviar dining experience at SOLE can be unique for several reasons:
Caviar's unique flavour is a combination of salty, briny, buttery and nuttiness. At SOLE you can savour these distinctive tastes by trying our 3 caviars; Oscietra Classic, Royal e Imperial, Da Vinci, Sevruga.
Caviar is associated with luxury and what better way to celebrate a special occasion by enhancing your dining experience by adding a bit of prestige to your meal. Accompanied by our Veuve Clicquot Champagne Flight, this is the ultimate way to celebrate in sophistication and style.
Caviar is often paired with Champagne however at SOLE not only do we have the Veuve Clicquot Champagne Flight, we also offer a Vodka Martini Flight consisting of Belvedere Gibson, Grey Goose Twist and Cîroc Dirty served ice cold.
Caviar is a cultural experience that has a rich history and is associated with celebrations and special occasions. Trying caviar at SOLE allows you to partake in a tradition that has been enjoyed by royalty and connoisseurs for centuries.
Caviar Ars Italica
Caviar Ars Italica Calvisius are obtained only from sturgeons grown in the clear waters of the Ticino Park.
Different qualities of sturgeon are produced from the delicious eggs of these sturgeons caviar Ars Italica: Oscietra Classic, Royal e Imperial, Da Vinci, Sevruga.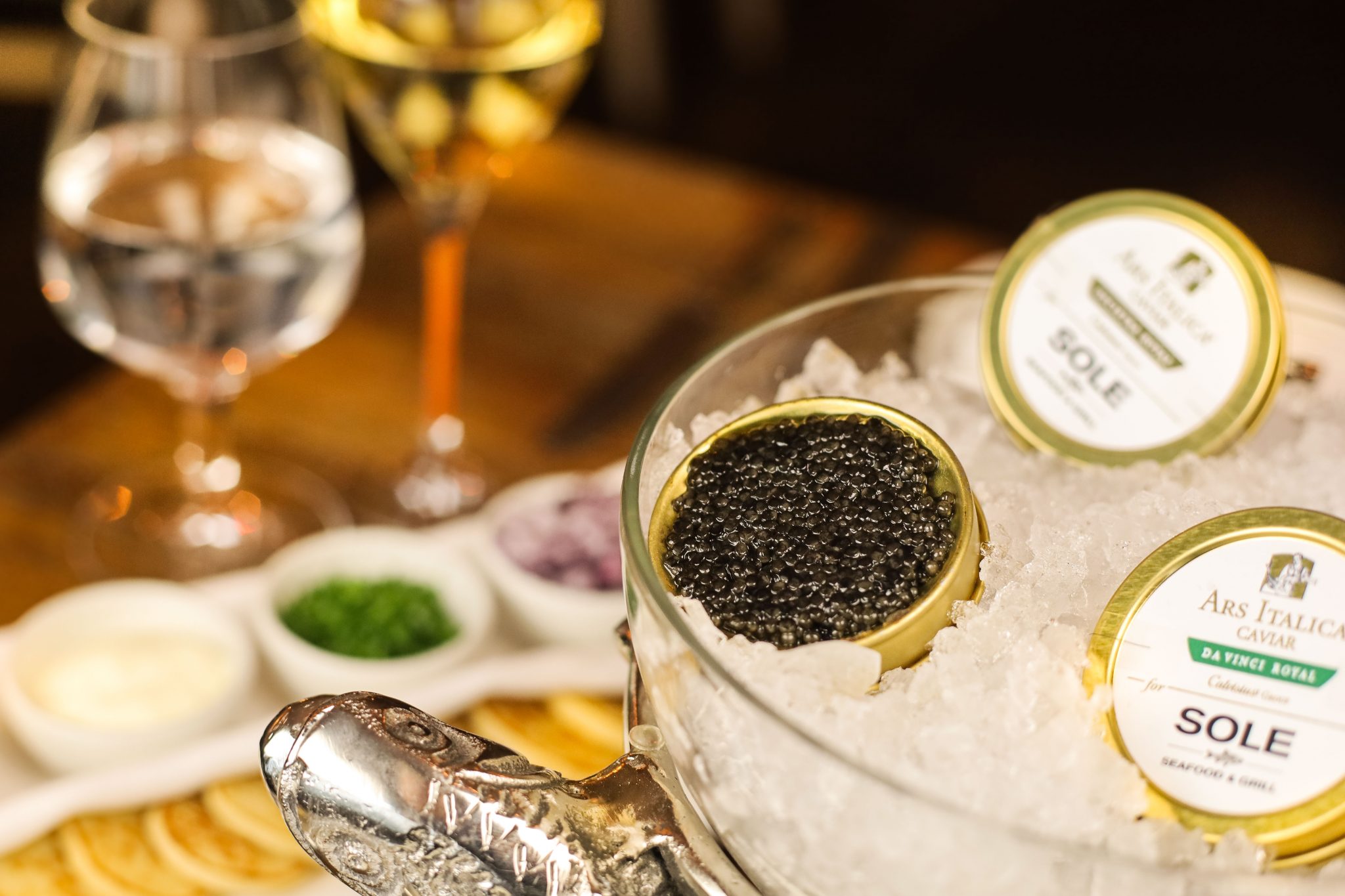 The Three Unique Flavours of Caviar at SOLE
Sevruga Royal
From the Star Sturgeon, Sevruga is known to have the strongest flavour profile amongst all of SOLE's Caviar, with rich and complex flavours of the sea with a slight touch of hazelnut.
Oscietra Royal
The Russian Sturgeon brings a rich, nutty and creamy caviar flavour which is so prized that it sets the standard in Caviar. Oscietra Royal exhibits notes of pear, butter and hazelnut with a bright, refreshing finish.
Da Vinci Royal
From the Adriatic sturgeon, one of three species originally from Italy, presents a bold flavour of oster and seaweed, with an iodized note, reminiscent of the sea.
Caviar and Veuve Clicquot Flight pairing
At SOLE we recommend our Caviar lovers to pair their favourite salty sturgeon pearls with our Veuve champagne flight. There is no better match for this ocean delicacy than champagne.
Whether you are celebrating a special occasion or enjoying an indulgent night with friends or that special someone at SOLE Seafood & Grill, caviar and champagne are sure to satisfy the senses.
SOLE's Veuve flight includes Yellow Label, Veuve Rosé and Vintage 2012.
Caviar and Vodka Martini Flight pairing
A martini with Caviar pairing is a dream waiting to happen. SOLE's Vodka Martini Flight consists of Belvedere Gibson, Grey Goose Twist and Cîroc Dirty served ice cold.
Due to their complementing flavours, vodka and caviar make a classic culinary pairing. Vodka's sharpness balances the caviar's richness. This combination gives a window into a world of stunning luxury and refined taste, whether you are celebrating a special occasion or treating yourself to one of life's luxuries.
Calvisius and Ars Italica Calvisius
Calvisius' story behind in the late 70's with the birth of Agroittica, an avant-garde fish farm where an all-Italian experience is created with respect for nature, passion for perfectly crafted products and a strong pursuit of perfection.
Quality, Craftsmanship and Sustainability are the pillars of Calvisius Caviar's values, guiding principles and the goal of all their efforts.
The quality of Calvisius products relies directly upon the well-being of the sturgeons. For this reason, the farms use only spring water and feed the sturgeons with the highest quality foods. As Calvisius is both a breeder and a manufacturer, they have direct control over every aspect of the sturgeon's lives; this allows them to trace the history and origin of each package that is put on the market.
Sustainability of Calvisius Caviar
Since 1998, sturgeon has been listed by the Washington Convention as a species in danger of extinction. Calvisius have been fighting every day for over 30 years to safeguard this endangered fish species. They were awarded the Certificate of Friends of the Sea for the sustainable approach they have in breeding and their manufacturing facility is certified "BRC" and "IFS high level" which is unique in the world of sturgeon breeders and caviar producers.
While caviar may not be to everyone's taste, it's worth trying at least once to appreciate its unique qualities and the luxurious experience that accompanies it at a Dublin seafood restaurant like SOLE.
Book your Caviar Experience at experience today
By contacting our reservations team email: reservations@sole.ie or call: +353 (01) 544 2300
Go back