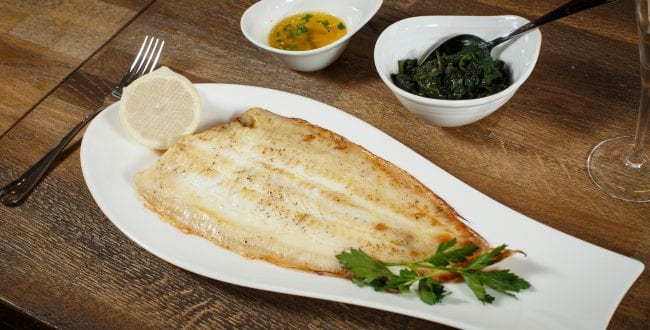 Sole Meuniére whole Dover sole on the bone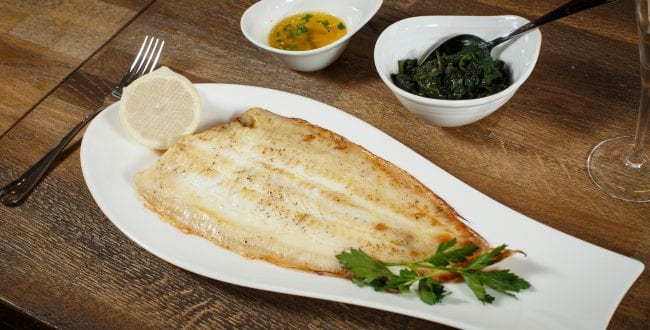 Ingredients
To Serve 4
4 ea Whole Black/Dover Sole
1 ea Finely Diced Red Onion
20g Fine Capers
2 ea Lemons Juiced
400g Unsalted Butter
20g Chopped Flat Leaf Parsley
Seasoning
Download Recipe
Method
Begin with the sole itself, ask your fishmonger to skin and trim your sole ready for roasting but keep the trimmings to make the sauce. Melt the butter in a pot over a low heat until the milk solids have fallen to the bottom.
Using a brush paint the fish on both sides with plenty of butter but only from the top of the pot, season with a little salt and pepper before placing on a roasting tray and into a preheated oven at 180 degrees. This should take no more than 12 minutes to cook through. Once cooked squeeze a little lemon juice over and allow to rest a little before serving.
To make the butter, sauté the fish trimmings in a wide-based pan with a little of the butter until the butter begins to brown. Add a squeeze of lemon and the remaining butter. Pass through a fine sieve into a serving dish and finish with a little chopped flat leaf parsley
To Serve: Place the Sole in the centre of the plate and spoon plenty of the butter down the centre of the fish, garnish with a little lemon and pea shoots or a sprig of parsley. Served with a little wilted spinach alongside, BEAUTIFUL!
Go back