Seafood lunch in Dublin at SOLE Seafood & Grill
Looking for the perfect spot for a leisurely seafood lunch in Dublin City Centre? Look no further than SOLE Seafood & Grill. From fresh oysters to West Cork Mussels and Peter Hannan dry-aged Rib Eye, our lunch menu is packed with the best seafood and meat from Ireland's shores and land.
With a relaxed atmosphere and attentive service, SOLE is the ideal place to unwind and enjoy a delicious lunch and a glass of wine or Champagne.
SOLE opens for lunch from 1 pm every Saturday and Sunday. Our 2-course lunch menu starts from €39 per person and 3 courses from €45 per person.
Located in the heart of Dublin city centre on South William Street, SOLE offers a true sea-to-SOLE experience.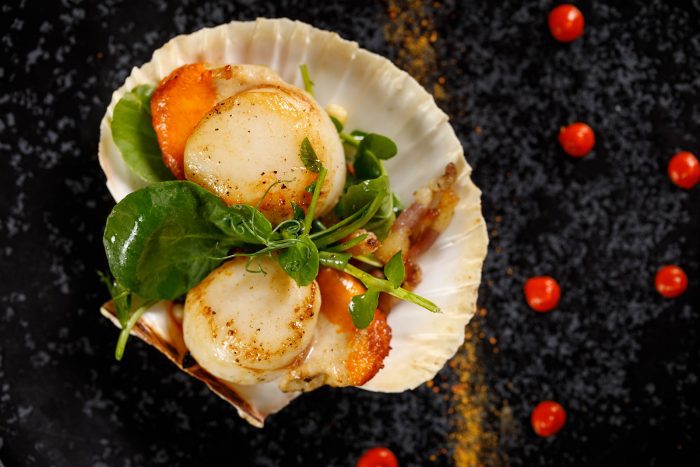 Enjoy a Relaxed Atmosphere.
Dining in SOLE is all about the customer experience. Our guest satisfaction is the most important factor, and we want to ensure the ultimate high-end casual dining experience at our award-winning restaurant for every guest. 
SOLE's chic interior, complemented by a stylish bar, provides our customers with a relaxed atmosphere to enjoy luxurious cocktails, wines, beers, and award-winning seasonal dishes. 
Our unique atmosphere with ambient lighting offers a warm and inviting atmosphere, setting that mood that allows our guests to relax and socialise in the heart of Dublin's city centre.
The SOLE team are incredibly passionate about supporting Irish producers, and their menu knowledge means they will be able to provide the perfect recommendation to suit your preferences.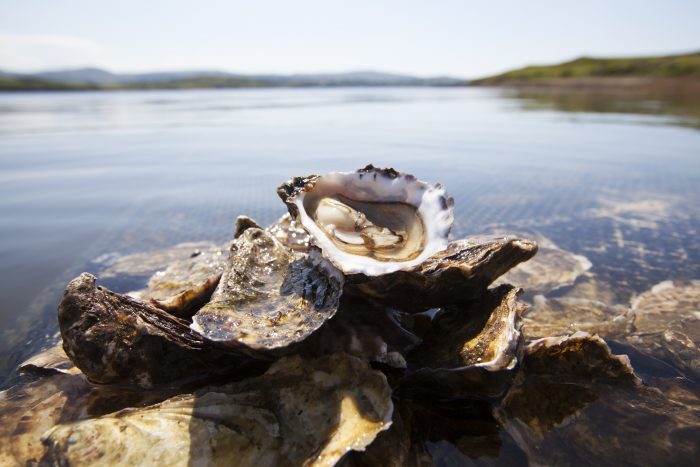 Savour the Flavors of the Sea.
SOLE's culinary team prepare the very best of products from shore to the soil, producing a menu wealthy in the very best locally sourced produce. Each day our culinary team prepare SOLE's seasonal dishes with great passion and care to enhance their pure flavours, from salty mackerel to sweet monkfish, fresh oysters from Ireland's coastal waters, West Cork mussels, smoked salmon from Howth and the finest Irish lobsters.
Enjoy the freshness of the seafood at SOLE, bringing the best in taste, whether grilled, fried, steamed, raw, or in a soup, savouring the flavours of the sea to give our customers a memorable and enjoyable dining experience. 
Let our seasonal dishes with flavours of the sea take you on a journey from our sweet, tender West Cork Mussels to our white Dover sole with a subtle, buttery flavour with a nutty undertone along with the most exquisite delicacies including our Ars Italica Calvisus Caviar, produced in the clear spring waters of the Po Valley Italy.
SOLE takes enormous pride in working with some of the best producers and suppliers Ireland and the world has to offer and that is why we take our new and returning customers on a journey through the flavours of sea-to-SOLE.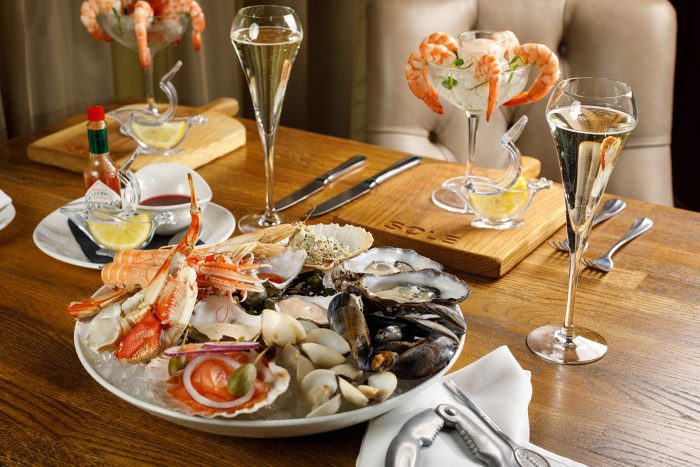 Experience the Ultimate Leisurely Seafood Lunch in Dublin.
Dublin's bustling city centre is a height of activity throughout the weekend. 
Whether you are shopping in the high street stores, vintage shops and boutiques or in for a day experiencing the culture and wealth of museums Ireland's capital city has to offer, SOLE Seafood & Grill offers you the best seafood lunch in Dublin experience in the heart of Dublin.
Located on South Wiliam Street and Awarded 'Best Seafood Restaurant in Europe' at the World Luxury Restaurant Awards, SOLE Seafood and Grill is a great option for a leisurely lunch during the weekend.
Open from 1 pm Saturday and Sunday, SOLE provides a unique atmosphere that entices many new and returning customers. The restaurant offers a warm and welcoming environment that allows our guests to relax and socialise over luxurious cocktails and award-winning dishes.
Our lunch menu has something for everyone, including our rock Oysters sourced from Ireland's coastal waters served with raspberry and shallot vinaigrette, pan-seared Sea Bass, as well as our dry-aged Rib Eye and Gnocchi served with sprout and sage fricassee.
Our lunch menus start from €39 pp for 2 courses and €45 pp for 3 courses. SOLE's A la Carte menu is also available daily with favourites like our Fish 'n' chips at €28.50.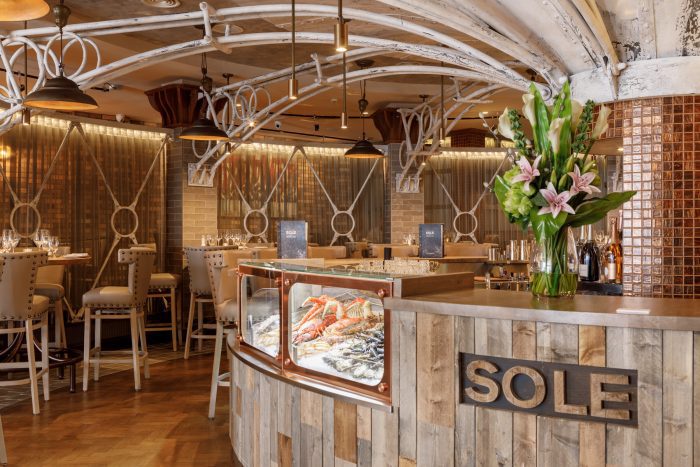 Book your SOLE experience today 
You can book your SOLE experience today by contacting our reservations team by email: reservations@sole.ie or call: +353 (01) 544 2300
Go back