Seasonal Oysters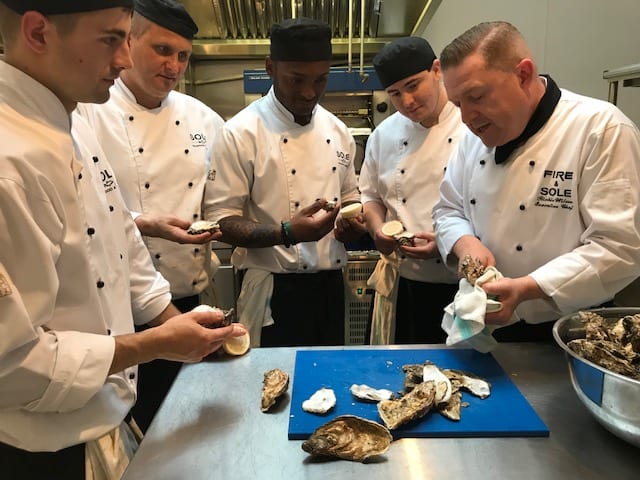 Native Oysters Seasonality
Ireland has a very long history with the oyster: discarded oyster shell fossils have been found on Irish beaches dating back 5,000 years. To this day, Oysters are still an integral part of Irish cuisine, with native varieties famous the world over. Oysters are high in protein and low in fat, highly nutritious and particularly rich in zinc, which is vital for a healthy immune system.
The size, shape and flavour of Oysters varies considerably. There are fantastic native oysters available, most famous being from Galway and Carlingford. Natives are pricier and considered superior and should be enjoyed uncooked. Pacific and rock oysters tend to have a frillier shell and smaller, milder meat.
Traditionally, oysters are eaten during months ending in the letter 'r', which is a clever rule as these are the cooler months and outside the spawning season. Therefore the Native Oysters which we serve at SOLE are currently out of season. During the summer months, when the Oysters are spawning, their meat tends to go milky and is not as tasty. It is also safer to avoid Native Oysters during these months as algae blooms in the warmer waters, meaning there is increased bacteria in the waters.
Due to this we serve farmed, rock oysters at SOLE during the summer months. With farmed oysters, all elements are controlled, making them safer and more delicious to enjoy during May, June, July and August. We will have special guest Oysters appearing on our menu at SOLE throughout the summer months.
---
Our Oyster selection at SOLE will vary nightly.
See a selection of the Oysters available this summer below.
Carlingford rock:
The tide in Carlingford Lough in conjunction with the freshwater flowing in from the mountainsides give these oysters a very rich and distinctive sweet, slightly nutty flavour.
Achill rock:
Traditionally grown on the west coast of Ireland for a delicious straight-from-the-sea taste in every mouthful.
Connemara rock:
Thanks to the unique combination of fresh and sea water, these oysters have lots of sweet and creamy notes with a touch of earthiness.
Galway rock:
The flavour is just big bold ocean; sea salt upfront, a seaweed note in the middle and a dry palate finish.
Harty rock:
The nutrient-rich waters of the Atlantic and Irish seas combined with the local rivers & streams surrounding Dungarvan Bay create a sweet and meaty unique 'speciale' oyster.
---
We can't wait to welcome you to SOLE this summer and see what you think of our guest oysters!
Go back