Louis Roederer the "Most Admired Champagne Brand!"
We are proud to have the "Most Admired Champagne Brand!" Louis Roederer on our shelves.
We would like to congratulate Louis Roederer on achieving first place in the 'World's Most Admired Champagne Brands'! Louis Roederer has never finished outside the top five in the four previous years the 'World's Most Admired Champagne Brands' supplement has run. And this is the year it's finally made the top slot! Louis Roederer is consistent. They don't make bad wines and every year efforts are being made to improve quality, even when they appear to already be at the peak of their game. That's what it takes to build a great champagne brand – consistent quality over many years. The foundation for that quality is the Rouzaud family's 240ha vineyard estate, large enough to provide around two-thirds of the grapes it needs, and mainly comprised of Premier and Grand Cru vineyards.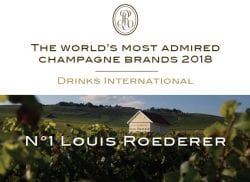 So what helped Roederer clear the final hurdle to the number one spot? It's undoubtedly partly down to
the quality of the Brut Premier blend. Head winemaker Jean-Baptiste Lécaillon – who has worked at the house since
August 1989, amid the three great vintages of '88-'90 and is widely regarded as one of the leading winemakers in the whole appellation – has taken it to another level over the past few years.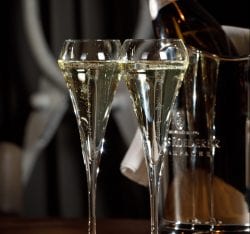 A little on the Roederer Estate Vineyard
This covers a total area of 240ha, enough to produce around 2.4m bottles of champagne. It is divided into 410 parcels, or 'lieux-dits'. Some 130 are in Grand Cru villages and a further 73ha have Premier Cru status. All the Roederer vintage wines – that's Cristal Blanc and Rosé, the regular vintage, Blanc de Blancs vintage and Rosé vintage, plus Brut Nature vintage – are 100% produced from this estate. The wine that is bought in from growers under contract is all fermented in a different part of the winery in Reims, across the road from where the estate wine is kept. The largest part of the Roederer estate is in the Côte des Blancs where the house owns 126 parcels covering an area of 84ha.
This is in villages including: Avize, Cramant, Oger, Mesnil-sur-Oger, Chouilly and Vertus. In the Montagne de Reims Roederer owns 112 parcels covering 69ha in the villages of Verzenay, Verzy, Beaumont-sur-Vesles, Ambonnay, Bouzy, Louvois, Villers-Allerand, Écueil & Sacy. The Roederer vineyard holdings in the Vallée de la Marne total 172 parcels covering 68ha in the villages of Aÿ, Mareuil-sur-Aÿ, Dizy, Champillon, Hautvillers, Cumières, Damery, Mutigny and Epernay.
Go back