Meet our Head Chef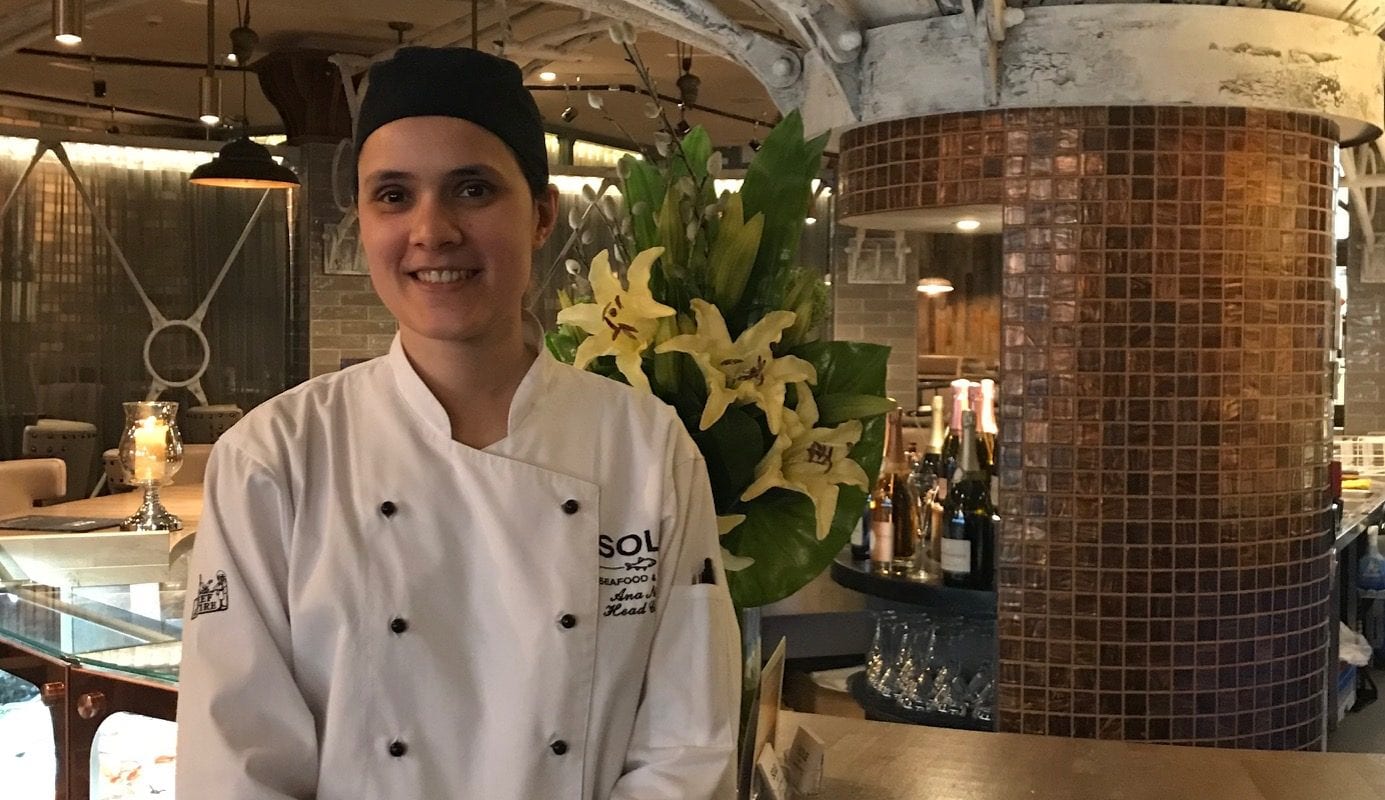 Ana Filipa
Can you give us a brief summary of your career as a chef to date?
My first job as a Chef was in a small city called Tavira in Portugal, I was 17 years old. I attended Culinary School in Faro for 3 years, which I loved and then worked as a chef in my home country for 14 years, mostly in 5-star hotels.
I then got the opportunity to move to Ireland and I couldn't pass it up! I have worked in Ireland for almost 5 years now, including some of Dublin's top restaurants such as FIRE Restaurant and Lounge.
What was it about being a chef that attracted you?
Since I was a little girl, I liked playing and experimenting with food (to my mother's dismay as I used to mess up the kitchen quite a bit!) Later, when I was in school I realised with the help of teachers and family I could turn cooking into my career. I jumped at that chance!
What does a typical day as Head Chef of SOLE Seafood & Grill look like?
My day in SOLE involves a lot of meetings with Suppliers, Management and our Executive Chef. I spend a lot of time on menu development, exploring and experimenting with new dishes.
I will then survey the kitchen, approve all stocks and check in with my Chefs and Kitchen Porters, making sure everyone is happy and ready for the day's tasks.
Then, of course, I do service; putting my heart and soul into the food, the flavours and it's presentation. Finally, I come home with a smile on my face because I love what I do.
What are three things you consider to be your strengths?
I believe that my strengths are friendship and kindness… but I can be a tough cookie when I need to be, that's crucial as the Head Chef of a busy restaurant!
What's your favourite dish to cook- of all time and at SOLE?
Of all time it would be freshly caught fish or squid. I come from the south of Portugal where they eat a lot of Mediterranean food and so what I like to cook is simple food, not easy but simple. Give me a freshly caught fish which I can season with salt, lemon and fresh herbs and I'm the happiest person alive!
At SOLE, I really enjoy cooking our signature dish, SOLE Meuniére, and also our Chargrilled Tiger Prawns.
What do you find most challenging in your role?
Probably the side to being a Head Chef that you might not automatically think of, which is all the admin! Ordering, dealing with different computer systems, inputting data etc.
What do you find most rewarding?
Working alongside my team every day and seeing that all my chefs are happy, I find that really rewarding.
What is your biggest achievement to date – personal or professional?
Becoming a Head Chef in a country that's not my own.
Is there a motto or personal mantra you live your life by?
"Every little thing gonna be all right"
Go back