WineEmotion System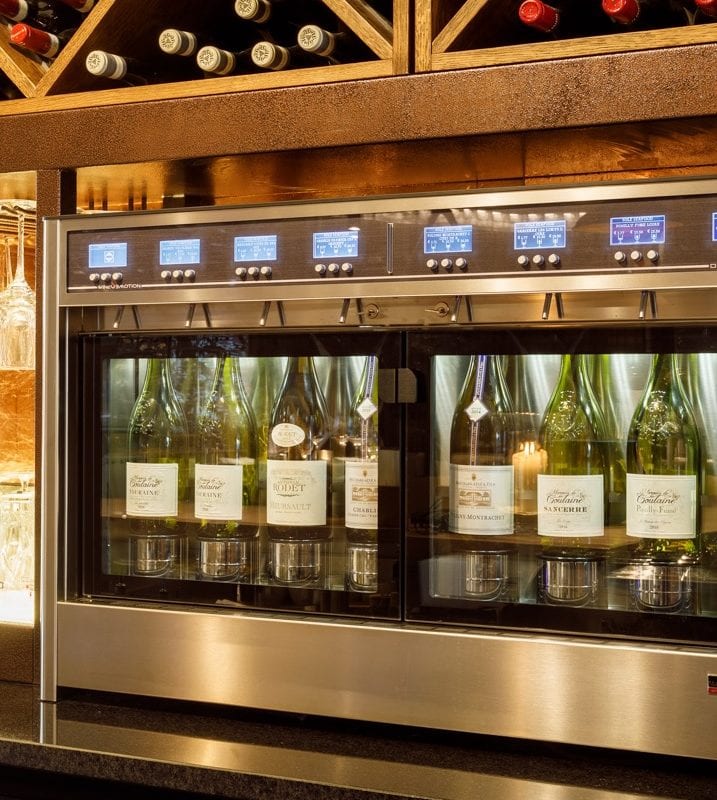 We are delighted to have a state of the art WineEmotion system at SOLE.
The system keeps fine wine in perfect condition for up to 30 days, allowing our guests enjoy a glass of some of the worlds top wines, which may not be available by glass anywhere else.
Sauvignon Blanc, Pouilly Fumé   
le Champ des Vignes, Loire, France 
Sauvignon Blanc Sancerre
Les Lorys, Loire, France 
Cortese Pio Cesare Gavi, Piemonte, Italy  
Chardonnay Bouchard Aine 
Chablis Premier Cru, Burgundy, France
Chardonnay, Antonin Rodet, Meursault 
Côte de Beaune, Burgundy, France   
Chardonnay, Bouchard Aîné et Fils, Puligny
Montrachet, Côte de Beaune, Burgundy France
"WineEmotion's Italian styling and advanced features combine art with state-of-the-art," says Dan Lovell, managing director of WineEmotion. "The system is the best way to serve and preserve quality wine."
Fine wine is becoming more popular, as is buying wine by the glass. This is precisely why the SOLE wine list is a core element of the SOLE experience and why we sourced the WineEmotion OTTO 8. Generally, selling fine wine by the glass is not possible as once the bottle is opened the wine can spoil, deteriorating rapidly over a few days. However, the new WineEmotion system uses patented technologies to serve and preserve fine wines, even after the bottle is opened.
A highly accurate temperature control system ensures that the wine is kept and served in the best possible condition, including two climate zones so that both white and red wines can be served from the same unit.
So, important question….which of the delicious wines from the SOLE Wine List will you enjoy first?!
Go back