Pairing Wine with Steak
SOLE Seafood & Grill offers the finest food and wine available in Dublin city centre. Awarded 'Best Luxury Seafood Restaurant in Europe', at the World Luxury Restaurant Awards, SOLE offers a dining experience like no other.
Steak Restaurant Dublin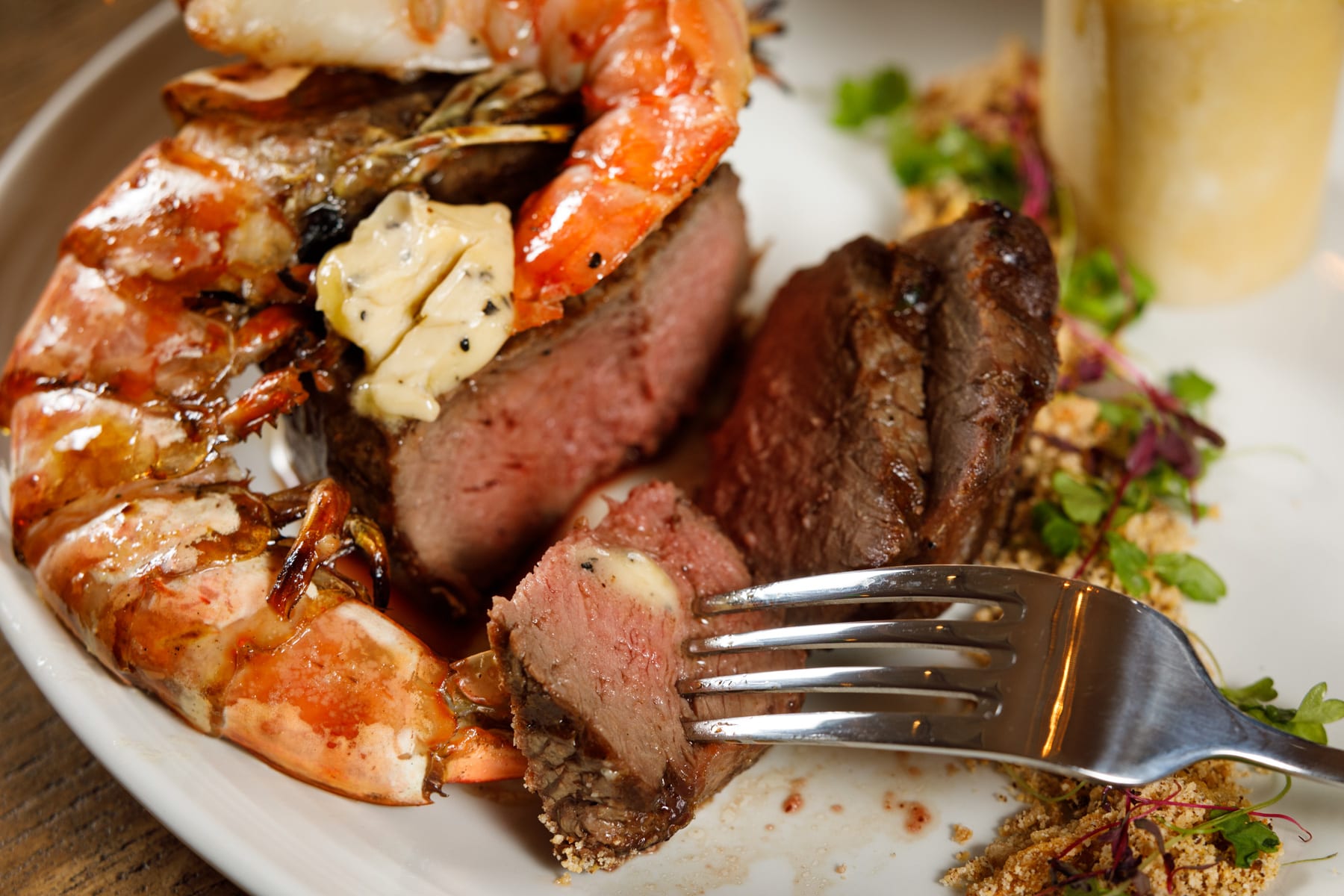 As well as offering the freshest Irish seafood, SOLE offers award-winning Irish Hereford Prime steaks, one of the best steaks available on the global market. At SOLE, our tender 10oz fillet steak is dry-aged in-house for 14 days and served with shallot mash, roast roots and mushrooms. Also, on offer is a 10oz sirloin steak, this cut is dry-aged in-house for 28 days and served with shallot mash, roast roots, mushrooms and your choice of marrow butter, garlic and herb butter or pepper sauce. You can also experience the best of land and sea by upgrading your steak to surf to the turf, with the addition of a delicious chargrilled tiger prawn.
Pairing Wines with Steak
Enjoying wine with steak is a great way to enhance the flavours of your food. A fine wine can give an acidic taste and sweetness that matches perfectly with the fatty and salty taste of a steak. In 2019 the beverage and wine list in SOLE increased from 30 wines to 98, giving our guests great choices from popular wines on the market to rare bottles from our cellar.
Best Wines to Drink with Steak
Cabernet
This wine offers a high acidity that cuts through the fat of the steak. SOLE offers two beautiful Cabernet Sauvignon wines that pair perfectly with the steak. Vasse Felix "Fillius" 2015 is a classic Cabernet wine form Australia. The strong tannins and acidity work well against a sirloin steak. Kendall Jackson, "Grande Reserve" 2014 is a full-bodied wine with notes of dark cherry and blackcurrant. This Californian wine is another delightful wine that will pair excellently with steak.
Malbec
Malbec is much bolder with a darker colour and stronger tannins. However, it carries fruity notes unlike Cabernet. This wine pairs perfectly with fillet steak, as the fruitiness enhances the taste of this lean meat. SOLE also offers a beautiful Malbec from Argentina, La Mascota. This wine has flavours of plum, berry and herbal notes of tomato and pepper.
Syrah
Syrah or Shiraz is a robust wine that pairs with fatty steak. Choose a Syrah from the Rhone Valley. These wines tend to have high acidity and rich peppery notes. SOLE serves Crozes Hermitage, Phillipe et Vincent Jaboulet 2016, a delightful wine from a family-run winery in the Rhone Valley.
Zinfandel
If you have a much sweeter tooth, this wine is for you. Zinfandel is less dry and has a higher alcohol content. The sweetness will help balance the saltiness of the steak, making it a fantastic sweet red wine to enjoy with your meal. SOLE offers another fine wine from Kendall Jackson, Zinfandel Vintner's Reserve 2014, a bold yet very fruity wine at the same time.
Book your steak and wine experience now or for the ultimate dining experience why not try our 6-course tasting menu paired with wine
---
To make a reservation, contact us on:
Or contact a member of the SOLE team.
T: (01) 544 2300
E: reservations@sole.ie
Go back