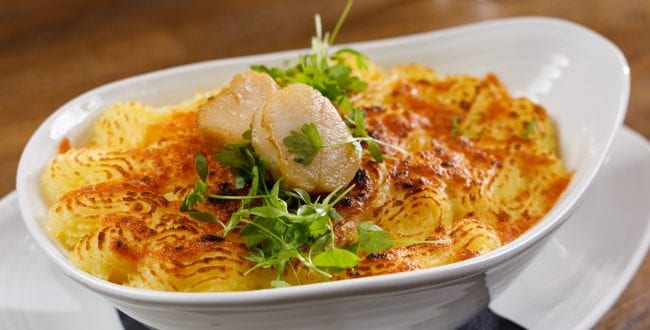 Fish Pie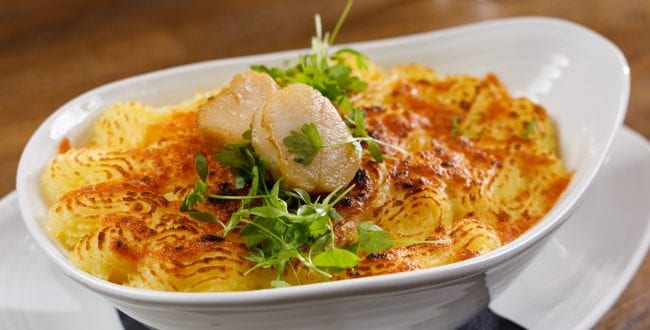 QTY    UNIT               INGREDIENTS:
900      g                      Fish (a mixture of cod, haddock, hake, salmon etc)
175      g                      Smoked haddock (too much-smoked fish may overwhelm the flavours)
2          ea                    leeks
100      g                      butter
900      ml                  full-fat milk
1          ea                    onion
1          ea                    carrot
1          ea                    bay leaf
1          pinch               Thyme
25        g                      Flour
900      g                      potatoes
salt and pepper
Method
Steam the potatoes to keep them as firm and dry as possible, mash and add in 300ml of boiled milk with 50g butter along with a little seasoning. Wash and dry the leeks, slice thinly into rings using the white and light green parts. Melt 25g of butter and sauté the leeks until soft but don't allow to brown. Heat 600ml of milk in a wide saucepan with sliced carrot, onion, herbs and some pepper. Bring to boil and simmer for about 5 minutes, remove from heat and let flavors infuse in the milk for about 10 minutes. Strain and keep the flavoured milk for cooking fish. If you wish you can buy the fish ready cut into cubes from the fishmonger, but make sure there is a nice mix of fish and not too much-smoked fish. Put the fish in a wide pan or saucepan, cover with the already strained milk and bring to a gentle boil and simmer with a lid on for about 5 minutes, depending on the size of fish pieces. Be careful not to overcook or break up the fish too much. Mix in the cooked leeks gently. Add the cooked shellfish if using. You can make one large pie or 3-4 smaller ones, or individual starter servings. In each case, with a slotted spoon remove the fish from the milk without breaking it up too much and divide evenly among the dishes. Keep the milk to one side. To make the sauce, melt 25g butter in a saucepan and blend in 25g flour, add the milk in which the fish was cooked, whisking to avoid lumps. Cook for a few minutes. If using cheese add at this stage, stir in to melt. Put the sauce over the fish in the dishes and top with the mashed potato, using a fork or a piping bag. Heat oven to 375°F (180°C/Gas 4) and cook for 10 to 15 minutes.
Go back