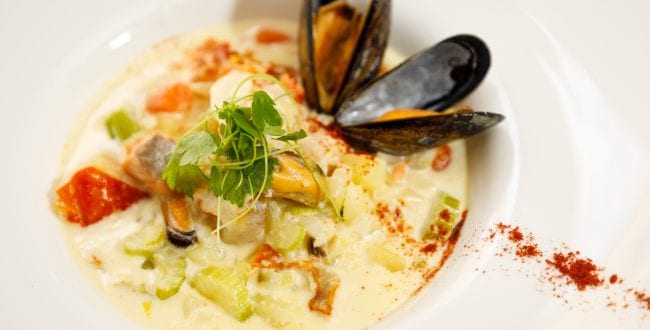 Seafood Chowder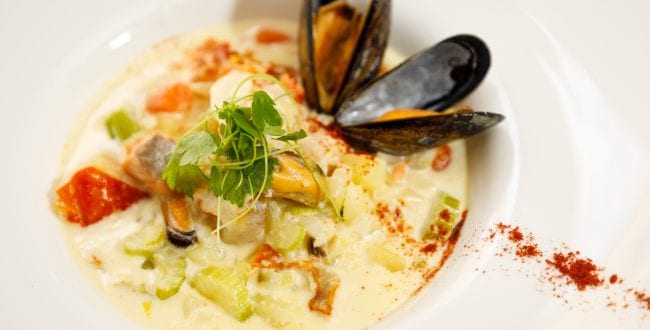 Ingredients
6 Portions
Clam and Mussel Stock
1 Each Shallot
200g Fresh Mussels
200g Fresh Clams
200 ml White Wine
150 ml Water
1 each Bay Leaf
1 each Small bunch of thyme
Chowder
400 ml Clam and Mussel Stock
500 ml Chicken Stock
1 each Onion, diced
5 each Celery Sticks, diced
2 each  Potatoes, diced
1 each Carrot, diced
400g Cubed fish, a firm fish like salmon or monkfish is best
100 ml Cream
50 g Butter
50 g Salt and Pepper
50 g Chopped Thyme
50 g Chopped Parsley
5 pinch Cayenne Pepper
100ml Olive Oil
1 squeeze Lemon
Clam and Mussel Stock METHOD
Begin by washing the clams and mussels well in cold running water.
In a hot pot, pour in the wine, allow to boil for 2 minutes to get rid of the alcohol. Add the shallots, thyme, bay leaf and water.
Bring the liquid back to a rapid boil and add the Clams and Mussels. Cover the pot and continue to boil until the shellfish are all open, about 2-3 minutes.
Remove from the heat immediately and strain the liquid into a container or bowl. Before adding this stock to your chowder it's a good idea to pour it through a fine sieve or cloth.
Allow the shellfish to cool a little before removing them from the shells, discard any that are unopened. Set the meat aside to add to your chowder later.
Chowder Method
In a large Pot melt the butter over a moderate heat. Add the chopped thyme, onions, celery and carrot and season.
Turn these vegetables over for a few minutes. Now add both stocks , bring this to a simmer and add the potatoes, simmer for a further 10 minutes or until the potatoes are cooked.
Now add the cream and a little squeeze of lemon, just to taste before adding the diced fish and the mussel and clam meat you set aside earlier.
Simmer for a further 2-3 minutes before serving. Garnish with some freshly chopped parsley, a pinch of cayenne and a prawn if you wish.
Go back