South William Street & the Creative Quarter
Considering visiting us at SOLE Seafood & Grill? We are conveniently located on 18-19 South William Street, one of the buzzing streets in Dublin's Creative Quarter. The Creative Quarter is home to an eclectic mix of shops, cafés, galleries, restaurants, creative businesses in the city centre of Dublin and it's a great place to walk by during day or night.
From Monday to Thursday we open at 5 pm and you can enjoy our amazing pre-theatre menu until 6.15 pm, perhaps with a cocktail in hand for a happy hour treat. On Fridays and Saturdays, we open from 12 pm for lunch with a selection of menu options that make the perfect corporate lunch or leisurely day out with friends. After enjoying a delicious meal, you can stroll around this incredible neighbourhood for shopping, galleries or simply enjoy Dublin on a Saturday afternoon.
We are honoured to be among great company on South William Street, as you can find Dada, Dakota, Pygmalion, Farrier & Draper, Clement & Pekoe, Benefit Cosmetics Boutique, Kokoro Bento, Dylan Bradshaw Hair Salon here too.
SOLE's location is also incredibly close to Grafton Street, one of the main shopping streets in Dublin's city centre and only 5 minutes walk from our sister restaurant, FIRE Restaurant and Lounge.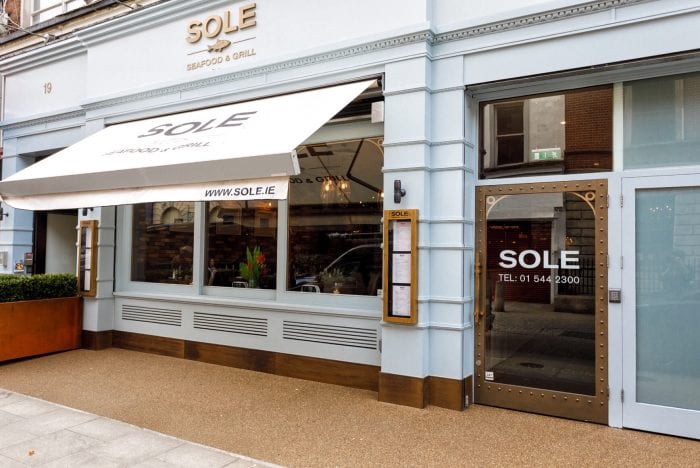 Join us in this dazzling street for the most delicious Irish Seafood carefully prepared by our team. We have a selection of menus available with incredible dishes like Howth smoked Organic Irish Salmon, West Cork Mussels, Irish Oysters, Sea Bass Fillet, Oysters, Irish Lobsters and much more. Discover our express lunch, pre-theatre menu and a la carte.
We look forward to welcoming you!
---
18-19 South William Street, Dublin 2
To make a booking, click here.
T: +353 (0) 1544 2300
E:  Reservations@SOLE.ie
Go back